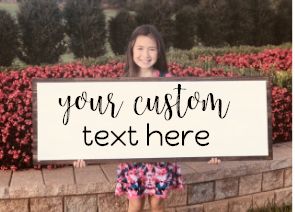 Custom Quote sign
Product Details:
Custom Quote sign for you to design.  Add your favorite quote or saying to this sign. Background and lettering painted color of your choice with a stained edge border color of your choice.   Hanging hardware installed on the back so your sign is ready to hang!
Wood (stain) color of your choice (Dark, Medium, Grey)
Due to space restrictions at home parties, Large 15.75x42" and 18x48" not available for parties, pre-made orders only.
Reviews