Happy Campers Sign with family name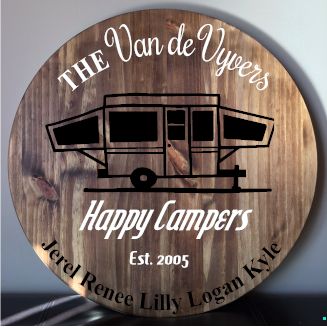 Happy Campers Sign with family name
Product Description:
Great sign for the family or couple that loves to camp!  Specify what kind of camper you'd like on the sign.  
Product Details:
Round or square wood size of your choice (24" or 18")
Wood (stain) color of your choice (Dark, Medium, Grey)
Camper color of your choice (Black, White, Dark Green, Navy Blue, Metallic 14k Gold, light buttercream).  We have a variety of paint colors, please specify which one you would like in the comment section if it is not listed here.
Vinyl lettering color of your choice (Black, White, Gold, Light Beige)
In the pictures:
Round wood is painted in Medium Stain Color.
Camper is black vinyl.
Letters are vinyl white color and black vinyl color.
Reviews