Hello Goodbye Large doormat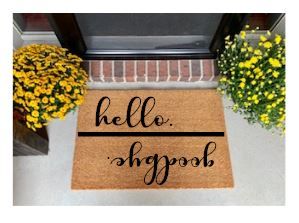 Hello Goodbye Large doormat
Large doormat measures 24" x 36"

hello - goodbye
Black acrylic painted design including a polyurethane water sealant to prolong the design.  Mats are made of 100% coir material.
Fibers are trapped inside the mat so you will not track them into the house.  Shake out or vacuum once every few weeks for maintenance.  Keep dry.
Reviews