Kids wood sign party package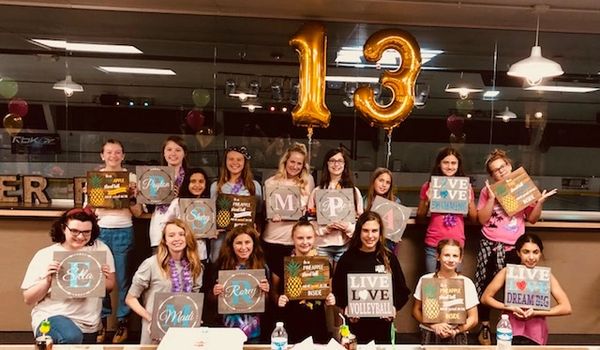 Kids wood sign party package
Host a wood sign painting party at your child's next event!!  Follow easy step by step instructions as well as watch a tutorial.  These are so much fun and easy to do.  Best of all, each guest gets to take home their own customized finished wood sign that they made.  No need to buy goodie bags.  Kids and parents will truly appreciate the fun activity and gift they get to bring home at the end of your event.  Wood Sign making is a great activity for birthdays, sports teams, girl scout troops and more!  Choose from a variety of our pre-made designs (Cheerleader, Unicorn, Dotted border with name, Friends themed sign, Be a Pineapple, Be Kind, Follow your dreams, arrow and dotted border with name, LOVE with paw print, sports themed) or contact me to create  a custom design for you. 
When checking out, please specify in the comment box:
-YOUR CHOSEN DESIGN FROM THE PIC ABOVE  (you can choose more than one design)
-Each guest's name if needed for the chosen design
-Up to 6  colors for painting (please see the color chart in the pics above)
WE WILL CONTACT YOU TO GO OVER YOUR CHOICES AND MAKE SURE EVERYTHING IS APPROVED BEFORE WE SHIP OUT YOUR BOX.  FEEL FREE TO CONTACT US TO ASK ANY QUESTIONS YOU MIGHT HAVE.  OUR EMAIL IS woodlovesigns@hotmail.com.  ONCE EVERYTHING IS APPROVED, WE SHIP OUT YOUR PARTY BOX FAST!
Sign Kit Details-
Choose 8,10, or 12 sign kits.  These signs measure approximately 11.25"x12" and are stained in your choice of dark. medium or grey.  You can choose up to 6 paint colors to go into your party kit box.  Some designs have specific colors that are needed. 
 A saw tooth hanger is included to attach to the back of the sign.   Small foam brushes, paint brushes and vinyl squeegees are included also.  A hammer will be necessary to install the saw tooth hanger on the back and is not included in the kit.  Other household items may be necessary such as a measuring tape, exacto knife or tweezers.
Reviews