May you never be too grown up to search the skies on Christmas Eve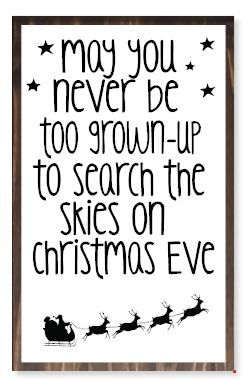 May you never be too grown up to search the skies on Christmas Eve
Product Details:
Sign measures 12x18" or 18x24".  May you never be too grown up to search the skies on Christmas Eve.
Wood (stain) color of your choice (Dark, Medium, Grey).  There is a stained edge made to look like a frame.  You can choose to have the whole board painted with no framed look.
Background painted red or white.
Lettering and design painted color of your choice.
Reviews